Panama and Colombia: Exploring the Caribbean Coast
on National Geographic Quest
Panama and Colombia: Exploring the Caribbean Coast
Discover an astonishing trove of natural and cultural treasures as you navigate the Caribbean coast of Panama and Colombia aboard the National Geographic Quest. Hike into dense rainforests that harbor extraordinary biodiversity, glide through little-explored inlets by Zodiac and kayak, and meet the indigenous inhabitants of a secluded Panamanian archipelago where age-old traditions remain part of everyday life. Experience the diverse heritage of stunning cities and remote towns off the beaten path, from the Arab-influenced architecture of Colombia's Santa Cruz de Lorica to the bustling shores of Santa Cruz del Islote—the most densely populated island in the world.
Trip Highlights
Transit the Panama Canal, gaining an up-close view of this modern marvel of engineering, and navigate the waters of the man-made Gatún Lake.
Discover the coastal treasures and remote wilderness of Colombia, exploring vibrant villages, pristine beaches, and wildlife-rich jungles.
Visit the palm-shaded Panamanian archipelago of Guna Yala (formerly San Blas Islands), an autonomous province that is home to the indigenous Guna people, and get immersed in local culture. Encounter timeless artistic traditions from the handcrafted mola textiles of Guna Yala to the famed vueltiaosombreros woven by artisans in the mountain village of Tuchín.
With the most bird species of any country (almost 1900) and an astonishing list of approximately 450 mammals, Colombia unquestionably contains within its borders the greatest biodiversity by area on the planet. Experience this wonderfully overwhelming variety of life as we explore Colombian wilderness along jungle trails.
About National Geographic Quest
About Lindblad Expeditions

Going where awesome is for 50 years
Lindblad Expeditions goes to the most amazing places on the planet—40+ geographies in all. And they've planted a flag in many of them, deeply committing to remote wild places—like South Georgia and the Falklands; Patagonia, where they opened up Staten Island, 'the island at the end of the world,' for eco-tourism; and remote and beautiful regions of Polynesia, including the Marquesas Islands where few go.
Teams that do whatever it take
...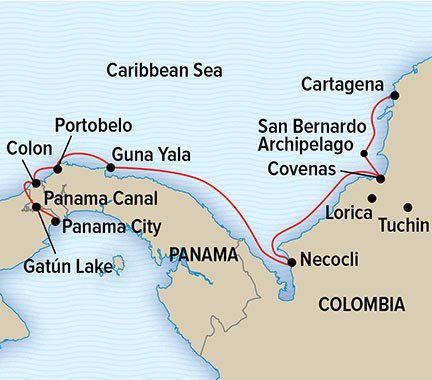 Day
Destination
1
Panama City, Panama
2
Gatún Lake
3
Portobelo
4
Guna Yala
5
Capurgana & Sapzurro, Colombia
6
Santa Cruz del Islote / San Bernardo Archipelago / San Antero / Tuchín
7
Santa Cruz de Lorica / Cispatá Bay
8
Cartagena