A Voyage along the Great Lakes – With Smithsonian Journeys
on Le Bellot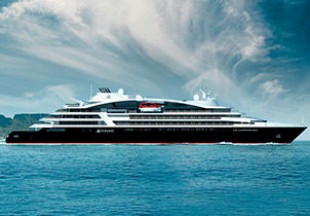 Shore excursion in each port of call + transfers included
In alliance with Smithsonian Journeys.
This cruise is part of a collection of PONANT voyages that are specially-tailored for American travelers who want to engage with the world. In addition to the usual elements of the PONANT experience, the listed price for these voyages includes transfers to and from the ship, talks and discussions aboard ship by world class experts, and a shore excursion or activity in each port of call that encourages guests to embrace the sights, sounds, tastes, and smells of the local environment and culture.
Set sail with PONANT aboard Le Bellot for an 8-day cruise to discover the Great Lakes amidst the splendid colours of early autumn.
You will leave from cosmopolitan and dynamic Toronto, Ontario, on the shore of Lake Ontario. Canada's largest city will charm you with its museums, parks, and gardens.
Le Bellot will then sail the canal connecting Lake Ontario and Lake Erie. From your call in Port Colborne, you will be able to see the impressive Niagara Falls. These three powerful waterfalls, renowned the world over, are an exquisite natural spectacle.
Your next lake, Lake Huron, boasts myriad islands in its northern part, with white rocks capped with conifers plunging into the sapphire waters of the lake. Here you will discover the charming city of Parry Sound, in the heart of the fantastic UNESCO Biosphere Reserve of Georgian Bay, and the quaint town of Little Current, gateway to Manitoulin Island, the world's largest freshwater island.
From Sault Ste. Marie, you will have the opportunity to transit the engineering marvel of the Soo Locks for a foray into Lake Superior, before continuing to Mackinac Island for an exploration of the island's Victorian past by horse and buggy.
End your voyage by sailing the length of Lake Michigan, a veritable inland sea, following in the footsteps of the region's indigenous Americans, first settlers, and trappers. Make your way to Milwaukee, Wisconsin, the United States' "brew city," for disembarkation.
Gardens, Foliage, and Nature
Luxury

PONANT is the World Leader in Luxury Expeditions with ultra-modern, intimate ships, offering attentive service and well-designed itineraries that touch all corners of the globe. Every cruise is a blend of adventure, exploration, and discovery—all experienced in luxurious comfort, even in the heart of extreme landscapes.
Why cruise with PONANT?

...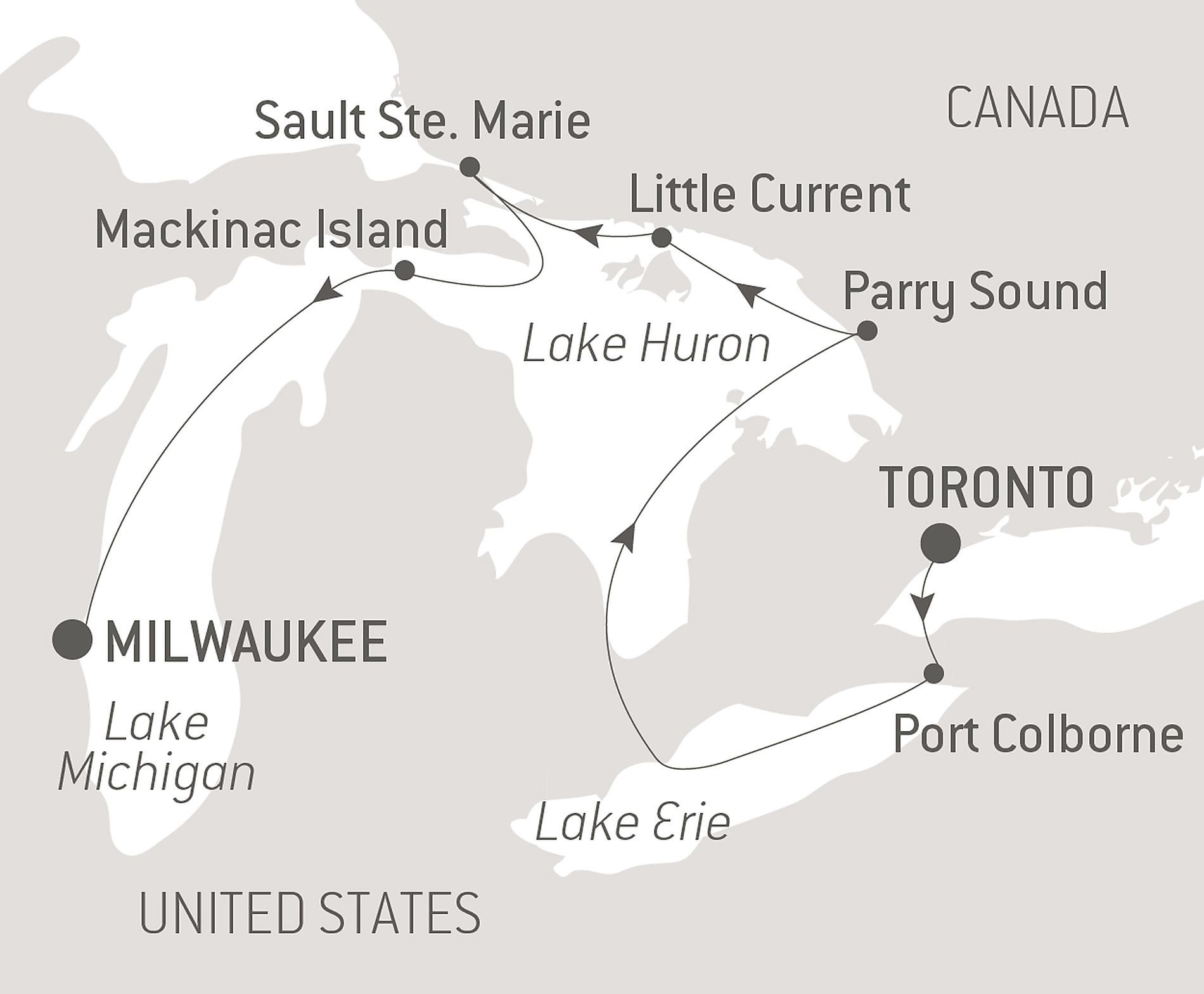 | Day | Port | Arrive | Depart |
| --- | --- | --- | --- |
| 1 | Toronto | | 6:00 PM |
| 2 | Port Colborne | 8:00 AM | 1:00 PM |
| 2 | Sailing Lake Erie | | |
| 3 | Sailing Through Detroit | | |
| 3 | Sailing St. Clair River | | |
| 4 | Sailing Lake Huron | | |
| 4 | Parry Sound | 8:30 AM | 1:00 PM |
| 5 | Little Current | 9:30 AM | 6:00 PM |
| 6 | Sault Ste. Marie | 7:00 AM | 6:00 PM |
| 7 | Mackinac Island | 7:00 AM | 1:00 PM |
| 7 | Sailing Lake Michigan | | |
| 8 | Milwaukee | 7:00 AM | |